What kind of problem are you having? Select all that apply.
No Contract Options
Pest Control in Seattle, WA
With over 30 years of experience, our team of trusted professionals provides fast and effective servicing, whether your need immediate pest relief or simply want to be proactive when it comes to protecting your home and family. Our exterminators are committed to eco-friendly pest control, using EPA-approved treatments that are guaranteed to get the job done.
When you partner with us, you can expect protection from:
Roaches
Ants
Beetles
Spiders
Rodents
Fleas
Bed Bugs
And much more!
​
Say Goodbye to Binding Contracts
We don't believe in burdening our customers with contracts and hidden fees—we believe in letting the work of our trusted exterminators speak for itself. Our services are tailored to not only fit your needs but also your budget, eliminating the need for commitments to monthly service contracts. Whether you're looking for an immediate, one-time solution or preventative, long-term protection, our pest control team from Bremerton is dedicated to making sure your home stays pest-free.
Image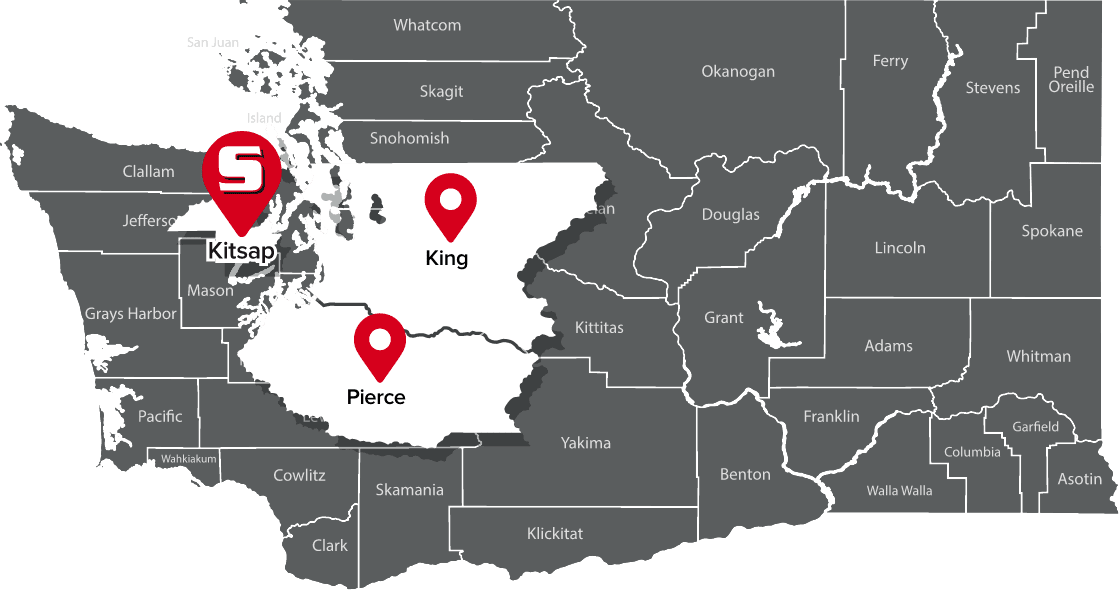 Quality You Can Trust
When it comes down to it, our goal is to provide the very best customer service experience possible. Having served our local community for over three decades, you can trust that our team of pest exterminators is accurate, honest, and ready to address your pest-related issues! Our experienced professionals are concerned with making sure your home is pest-free and stays that way.
Our team is prepared to:
Perform a complimentary free inspection of your property.
Exterminate all pests invading your home, guaranteed.
Treat your home's exterior, stopping new pests from getting inside.
Use only family-friendly, EPA-approved products.
Provide top-tier customer service.
Ant Control in Seattle
An ant invasion is one of the most frustrating problems to deal with as a homeowner, especially as ants are capable of tracking dangerous bacteria into your home and contaminating your food. To ensure your protection, our ant exterminators get rid of ants in your home and implement a variety of prevention methods that are guaranteed to work for many months to come!
Get Faster Relief
Our ant treatments target every type of ant found in Washington, including the wood-destroying carpenter ant. We focus on baiting the inside of your home to eliminate your current ant infestation and treating the exterior to prevent future infestations—and as always, our treatments are entirely family- and pet-friendly!
Our ant control in Seattle includes:
A free inspection to determine the source and scale of the ant infestation.
Family-friendly products for your peace of mind.
Complete elimination of all ants currently infesting your home.
Protection from future ant outbreaks.
Rodent Control in Seattle
Rodents may seem small and harmless, but they can cause problems once they invade your home. Not only can rodents contaminate your food and water supply, but they can also cause electrical issues by chewing up the wiring in your ceilings and walls. If your home is overrun by rodents, it's time to call the professionals to effectively eliminate rats, mice, and all other rodents—no matter the size.
Custom Treatments for Effective Rodent Control
Getting rid of rodents can become a challenging thing to do on your own—fortunately, our rodent exterminators can develop custom treatment plans that eliminate current infestations and also provide long-lasting rodent prevention.
When you partner with us for rodent control in Seattle, you will receive:
A thorough inspection of your home, conducted by one of our exterminators.
A custom treatment plan to effectively get rid of rodents in your home.
Total rodent elimination with EPA-approved traps and baits.
Professional exclusion work including patching holes and eliminating entry points as preventative measures.
Our rodent removal is a family-friendly way to effectively eliminate rats and mice from your home. They don't stand a chance against the professionals at Sound Pest Control!
Bed Bug Treatments in Seattle
If bed bugs have you tossing and turning at night, it's time to take action. We know how frustrating it can be to deal with a bed bug problem. These insects can be extremely difficult to eradicate from your home, especially as they are known to travel quickly from one place to the next—that's why it's best to let the professionals handle it!
Customized Treatment Plans for Your Home
We begin each bed bug treatment with a careful inspection to formulate a comprehensive service plan. Our exterminators utilize a number of effective and family-friendly options including heat and steam treatments to eliminate bed bugs in every stage of life, providing long-term relief to your family and home—and when you sign up for our service, you will receive a $100 coupon to use toward your first treatment!
Mole Control in Seattle
While moles may stay hidden from sight, their tunnels make for quite an eyesore! As a homeowner, the last thing you want is a lawn covered in molehills or grass damaged by tunnels. If you detect mole activity beneath your lawn, partner with an expert pest control company that knows how to get rid of moles safely and effectively. At Sound, we are ready to provide you with top-quality mole control that is environmentally friendly and guarantees quick relief. 
When you partner with us for mole removal in Seattle, we will:
Provide you with a free inspection to identify all moles, burrowed underground. 
Offer you no-contract treatment for a professional one-time service.
Offer you recurring treatments, covered under our recurring treatment plans, to ensure long-term protection from moles.
Use EPA-approved mole removal methods to protect your lawn from moles and the dangerous chemicals frequently used for mole extermination.