What kind of problem are you having? Select all that apply.
No Contract Options
Pest Control in Kingston, WA
As a homeowner, a pest infestation can be one of the most stressful experiences you can deal with. They can damage your home, make your living space feel unclean, and, in some cases, put your loved ones at risk for a variety of diseases. At Sound Pest Control, we offer exceptional service to keep your family fully protected all year long! 
Our experienced exterminators will protect you from:
Spiders
Carpenter ants
Cockroaches
Beetles
Bed bugs
Odorous house ants 
Fleas
And more!
Offering Nothing But The Best
Not only do our exterminators in Kingston have years of experience, but they also receive ongoing training throughout the year to ensure they are kept up to date on new industry trends, techniques, and safety procedures. So, when you need the best pest control in the Bremerton area, you know you can count on us for the best services available!
Image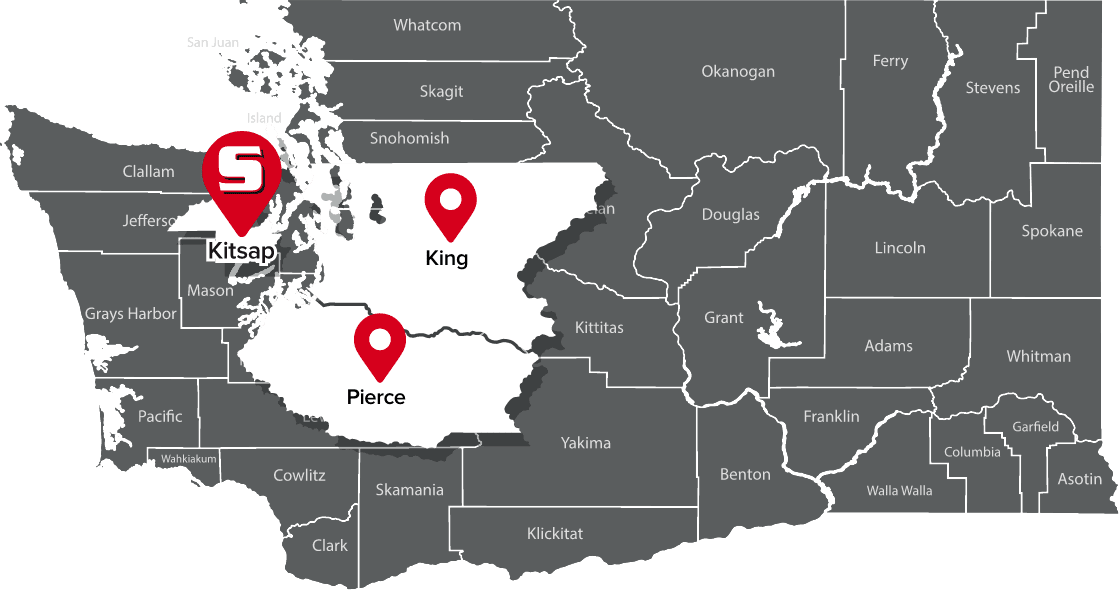 Effective, Family-Friendly Treatments
If you're searching for a pest control company that takes your health and safety seriously, trust the professionals at Sound Pest Control. Our treatments effectively eliminate the critters that are currently in your home as well as protect your home against future infestations. We use eco-friendly treatments that are 100% effective for your satisfaction!
When you partner with us for pest control in Kingston, we will:
Thoroughly inspect your home to determine the severity and source of your infestation.
Develop a custom treatment plan to completely get rid of pests in your home.
Employ the best methods of treatment in and around your home using only EPA-approved, family-friendly products—after all, your safety is the most important thing!
Treat the exterior of your home to stop critters in their tracks before they can even make it inside
We Are There Whenever You Need Us
We understand that you cannot predict when a pest infestation is going to occur, but all you have to do is contact us and we will send one of our local exterminators to your home as soon as possible. When our exterminators arrive, they will conduct a full inspection of your property and treat your home as needed. Plus, we won't tie you down to a contract—we believe our services speak for themselves!
Rodent Control in Kingston
Mice and rats can pose threats to the health and safety of your family and home—which includes anything from contaminating food, carrying fleas or diseases, and chewing on wires. If you're ready to get rid of mice and rats in your home, we are here to help, offering professional services guaranteed to keep your home rodent-free long-term.
Our rodent control in Kingston includes:
A free inspection of your home to determine the level of your infestation and identify all entry points.
A custom treatment plan that fits your needs and your budget.
Eco-friendly treatments that will get rid of rodents currently infesting your home.
Effective rodent exclusion to seal up entry points and holes in your home's exterior.
Ant Control in Kingston
Ants are experts at entering homes, which makes ridding your drawers, cabinets, and pantries of them rather tricky. If you're tired of trying to get rid of ants on your own, Sound Pest Control can help! We offer professional ant control treatments to target existing ants and also prevent future infestations.
When you choose us for ant control, you will receive:
A thorough inspection of your home to assess the extent of your infestation and identify how ants are gaining entry.
Help from trained, professional ant exterminators, who will be beside you every step of the way, keeping you informed and answering any questions you have.
Family-friendly treatment options for total extermination.
A protective barrier around your home that will keep ants out long-term.
We Treat A Variety Of Ant Species
There are nearly 1,000 species of ants in the United States, and while they won't all be crawling around your home, different species require different treatments. By properly identifying the species of ant that has invaded your home, we can provide effective treatment with our ant control that brings relief as soon as possible.
Bed Bug Treatment in Kingston
Bed bug infestations are one of the most feared infestations to have in your home—and rightfully so! Bed bugs hide in cracks and crevices during the day and come out at night. If you suspect you have a bed bug infestation, contact us right away! We offer fast relief with no monthly contract obligations! 
Our bed bug treatment in Kingston includes:
A thorough bed bug inspection to identify all of your affected rooms, furniture, cracks, and crevices. 
A custom bed bug treatment plan following our comprehensive inspection to identify the best course of action for your home. 
Family-friendly bed bug treatments that are safe for you, your loved ones, and the environment.
Preventative treatment methods to protect you against future bed bug infestations. 
Quick Services for Immediate Comfort
The sooner the better when it comes to a bed bug infestation. Bed bugs are typically found in and around the bedroom, but they have the ability to travel 10 to 100 feet. As an infestation quickly grows, bed bugs will disperse to different parts of your home. Fast relief is not only a desire but a necessity when bed bugs infest your home. When you choose to partner with us, one of our highly-trained bed bug exterminators will be at your home within 24 hours to perform a free bed bug inspection throughout your home.
Mole Control in Kingston
Moles can quickly turn a beautiful lawn into an unfertile space. These small mammals spend their life tunneling underground in search of earthworms and grubs to eat, which causes raised ridges in their wake. We're proud to offer fast, efficient, and eco-friendly mole control in Kingston. Our services are designed to remove moles quickly without damaging the environment.
When you choose us for mole control, you can expect:
A full lawn inspection to identify the presence and severity of your mole infestation.
Eco-friendly proactive and preventative treatments to remove moles and prevent their return in the future.
Professional consultation from one of our expert lawn technicians who will offer advice on how to keep moles away and make the most of your treatment.
A mole-free yard long-term!