What kind of problem are you having? Select all that apply.
No Contract Options
Pest Control in Port Orchard, WA
Are you tired of spotting pests around your home? Whether you've found one critter or are dealing with a full-blown infestation, Sound Pest Control is here to help! We offer professional pest control that eliminates vermin at the source for the most effective treatment. 
Our exterminators eliminate several household pests, such as:
Ants
Spiders
Roaches
Beetles
Fleas
Crickets
Rodents
And more!
Effective Family-Friendly Treatments
The best part about our pest control treatments is that they're family-friendly! We understand how much you value the safety of your loved ones, so our treatments are always low-risk for your peace of mind. As a local pest control company from Bremerton, we understand that your family's safety always comes first!
Image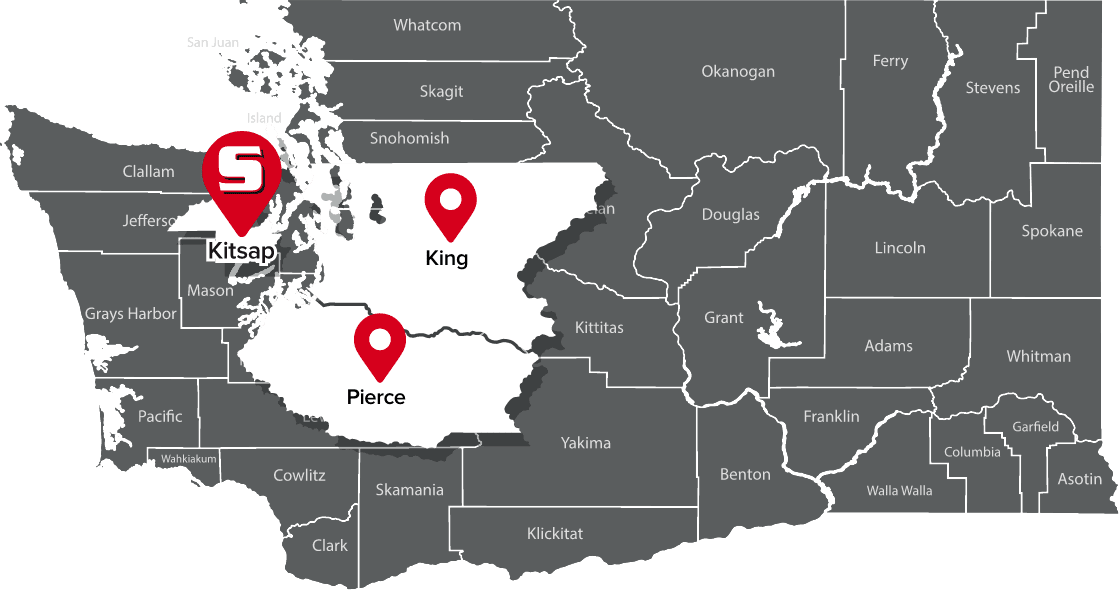 30+ Years In Business
With over 30 years of experience, we take great pride in providing top-quality service to families just like yours. That's why we go the extra step to ensure our treatments are low-risk and family-friendly. We offer new customers $30 off their initial service, so pest-free living comes at a great price! 
When you partner with us for pest control, we will:
Send one of our exterminators to thoroughly inspect your home.
Create a customized treatment plan based on the findings of our inspection.
Apply family-friendly treatments that are tough on bugs, but easy on your loved ones.
Return regularly to ensure critters stay gone throughout the year.
Bed Bug Treatment in Port Orchard
When bed bugs enter your home, they can quickly infest your furniture and clothes. Though bed bugs are difficult to get rid of, they are no match for our exterminators! We offer treatments that effectively eliminate bed bugs from your home while also providing you with helpful preventative tips.
Family-Friendly Termite Treatment
When you choose us for bed bug treatment, we use a variety of measures to ensure your home is 100% bed bug-free. Some of these methods include:
Steam treatments
Liquid applications
Heat treatments
Bed bug traps
The best part about our bed bug treatments is that they're family-friendly! We understand how much you value the safety of your loved ones, so our treatments are always low-risk for your peace of mind.
Rodent Control in Port Orchard
Rodents can pose threats to your family and home if not removed quickly and efficiently. We'll keep you protected with our experienced rodent exterminators. We provide treatments that will effectively get rid of the rats and mice and help keep them out of your home long-term!
Our rodent control service includes:
A free home inspection to determine the severity of your infestation.
A custom treatment plan that accounts for your budget and rodent control needs.
Effective removal of all rodents via traps and family-friendly baits.
Long-lasting exclusion methods that will seal off entry points.
Effective Service for Quick Relief
Keeping your family safe is our top priority. To this end, all of our treatments are eco- and family-friendly. Not only do we provide great service for our customers, but we'll also do it fast. By responding promptly to your call, we will help you prevent future infestations.
Ant Control in Port Orchard
Ants can easily infiltrate your home through the cracks and crevices around your house. The most effective way to eliminate ants from your home is with professional services. We offer treatments that successfully exterminate ants and protect you for many months to come. 
If you have noticed ants in your home, here's what our ant exterminators will do for you:
Provide a thorough inspection of your home to determine what type of ant infestation you are dealing with.
Create a family-friendly treatment plan to get rid of ants inside your home.
Apply EPA-approved treatments to the interior of your home.
Provide your home with long-term protection with our exterior treatments.
Trust Our Expert Ant Exterminators
With many years in the industry, our dedicated team of professionals has the knowledge and techniques to efficiently get rid of your ant problem. If you are noticing them crawling around your home, get in touch with us today for quick relief from these pesky pests!
Mole Control in Port Orchard
Moles may seem harmless, but they can cause serious damage to your yard. Moles burrow deep underground, leaving behind unsightly cone-shaped mounds of dirt and raised ridges, tearing up your grass's root system. Fortunately, we offer mole removal to quickly and safely remove all of them from your property while preventing further damage. 
Eco-Friendly Removal for Your Peace of Mind
Our trusted lawn care technicians use advanced removal methods to eliminate moles without relying on harmful rodenticides and chemicals. Our green approach protects your property, your family, and your home while simultaneously getting rid of all moles hiding underground. 
When you choose our mole control, our lawn care technicians will:
Perform a free inspection of your yard to confirm mole activity.
Develop a treatment plan that is custom-tailored to your unique property.
Use safe, eco-friendly methods to get rid of moles—no matter how deep they have burrowed underground.