What kind of problem are you having? Select all that apply.
No Contract Options
Pest Control in Poulsbo, WA
With the beautiful views of Liberty Bay and the Olympic Mountains, Poulsbo has some of the most beautiful views in the area. Unfortunately,  this diverse landscape also comes with a variety of unwanted pests. That's why the exterminators have spent years providing you with top-quality pest treatments, to ensure your home remains protected long-term! 
Our exterminators in Poulsbo will protect your home from:
Fleas
Rodents
Sugar ants
Spiders
Cockroaches
Bed bugs
Carpenter ants
Beetles
And more!
Your protection is our top priority. If you are having a pest control problem, let our exterminators from Bremerton help you eliminate the problem so you can get back to enjoying your home.
Image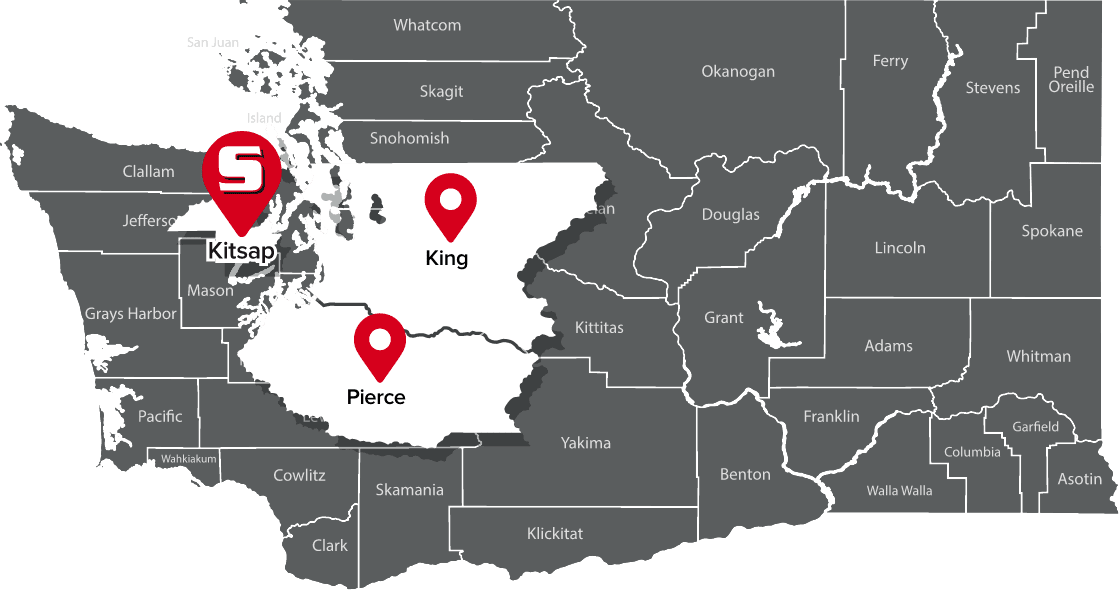 Safe, Effective Pest Control
Our experienced exterminators will work with you to ensure we find the best treatment for your home and family. All of our treatments are family-friendly and are guaranteed to get rid of a variety of critters in your home.
When you partner with us for pest control in Poulsbo, you can expect:
A free home inspection to identify the severity of your current infestation.
A custom treatment plan that is focused on providing solutions for your unique home.
Eco-friendly treatments that will get rid of pests in a risk-free way.
Effective exclusion methods that will keep vermin out of your home long-term.
Contract-free options for your convenience!
At Sound, we want to give our customers the best pest control for the best price. Now, when you sign up for our recurring services, you will receive $30 off your initial service!
Rodent Control in Poulsbo
From chewing through the wiring of your home to carrying fleas, ticks, and harmful diseases, rodents are extremely unwelcome vermin. At Sound, we will implement an integrated rodent control solution to ensure long-lasting results. Additionally, our EPA-approved rodent treatments are safe for humans and pets! 
Our treatment program includes:
A free rodent inspection to assess the degree of your infestation.
A custom treatment plan that will completely get rid of mice and rats in your home.
Family-friendly rodent removal with professional traps and bait systems.
Sealing off entry points to ensure you receive long-lasting relief.
Tough on Rodents, Safe For Your Family
While we want to eliminate rats and mice in your home, we also want to keep you and your family as safe as possible. That's why we provide Poulsbo residents with EPA-approved rodent control treatments that are safe for humans and pets. Let our certified rodent control exterminators keep you out of harm's way and give you back your peace of mind with the safest treatment available.
Ant Control in Poulsbo
While DIY methods for ant infestations might seem like a more cost-effective alternative, they're not effective long-term. Store-bought sprays and traps only provide temporary relief instead of getting to the root of the problem. Luckily, our ant exterminators in Poulsbo know how to get rid of ants for good. We apply eco-friendly ant treatments around your home to eliminate ant activity.
Quick & Effective Ant Control for Speedy Relief
No one wants to have to deal with an ant infestation for long. At Sound Pest Control, we're happy to offer local ant control treatments —all you have to do is contact us before noon and your home will be inspected and treated before the day is done!
When you partner with us for ant control, you will receive:
A free inspection of your home to identify points of entry as well as what species of ant you're dealing with.
Pet and family-friendly ant treatments that keep your loved ones safe while targeting existing ants.
Perimeter protection for your home to ensure ants can't make their way back inside.
Common Ant Species in the Area
While most species look similar, they're actually very different! To provide the best results possible, part of our treatment includes identifying what species has found its way into your home. The most likely culprits are either carpenter ants or odorous house ants (also known as sugar ants.) No matter what variety of ant infestation you're dealing with, we know exactly how to tackle them. Learn more about common types of ants in Washington State.
Bed Bug Treatment in Poulsbo
Bed bugs can easily take over your home, no matter how clean it may be. These insects can enter your home via second-hand furniture, luggage, and even clothes. For effective bed bug treatment, count on the experts at Sound Pest Control! We work quickly and effectively to completely get rid of bed bugs in your home.
Our bed bug treatment in Poulsbo includes:
A thorough inspection of your home for signs of bed bug activity, especially around furniture.
A custom bed bug treatment plan based on your budget and needs.
Proven methods for elimination, including heat treatments, targeted chemical treatments, and bed bug traps.
Total eradication of bed bugs from every life stage, no matter where they're hiding.
Preventative bed bug treatment to ensure bed bugs can't make a comeback.
Save $100 on Advanced Bed Bug Treatment
We understand sharing your home with bed bugs is stressful, but eliminating them doesn't have to be! At Sound, we offer fast, hassle-free service at a great rate. As a first-time customer, you will receive $100 off your initial bed bug treatment. Our bed bug exterminators use top-of-the-line products that are guaranteed to help you get a good night's rest once again!
Mole Control in Poulsbo
Moles invade your yard in search of grubs and worms, their favorite sources of food, but can do a lot of incidental damage while they're at it. Their underground activity disrupts and damages plant roots, which can cause patches to form across your lawn. Don't let moles stand between you and a healthy lawn! Let Sound provide you with professional mole control in Poulsbo to get rid of moles for good.
Signs of mole activity in your yard are easily recognizable and include:
Circular mounds of raised dirt where moles exit their tunnels.
Raised tunnels crisscrossing your lawn.
Areas of spongy soil and discolored patches of grass. 
Mole Control That Works For You
Our exterminators will go straight to work for you, performing a free inspection of your yard and using eco-friendly mole prevention techniques. Furthermore, we'll never rope you into a contract. We're confident that you'll notice the difference that our expert mole control makes in your yard!
Supporting Your Community
Here at Sound, we believe in giving back to the community that we live in as much as possible. We are committed to donating our time and money to the Central Kitsap Food Bank. Trusting us with your business means helping those in need!