What kind of problem are you having? Select all that apply.
No Contract Options
Pest Control in Silverdale, WA
If you're losing sleep over the unwelcomed pests that have laid claim to your home, relief—fast. We offer local, same-day pest control services if you call before noon!
We exterminate a broad range of critters, including:
Spiders
Fleas
Roaches
Beetles
Carpenter Ants
Rodents
Odorous House Ants (sugar ants)
And more!
Experienced Exterminators You Can Trust
Here at Sound Pest Control, we know that having years of experience protecting families from pests isn't enough to ensure that our customers are receiving the best treatments—that's why our pest control technicians from Bremerton receive top-notch training throughout the year. By staying up to date on industry trends, making sure our methods are the most precise, and learning the newest safety practices, we have full confidence in our ability to efficiently exterminate pests from any property!
Image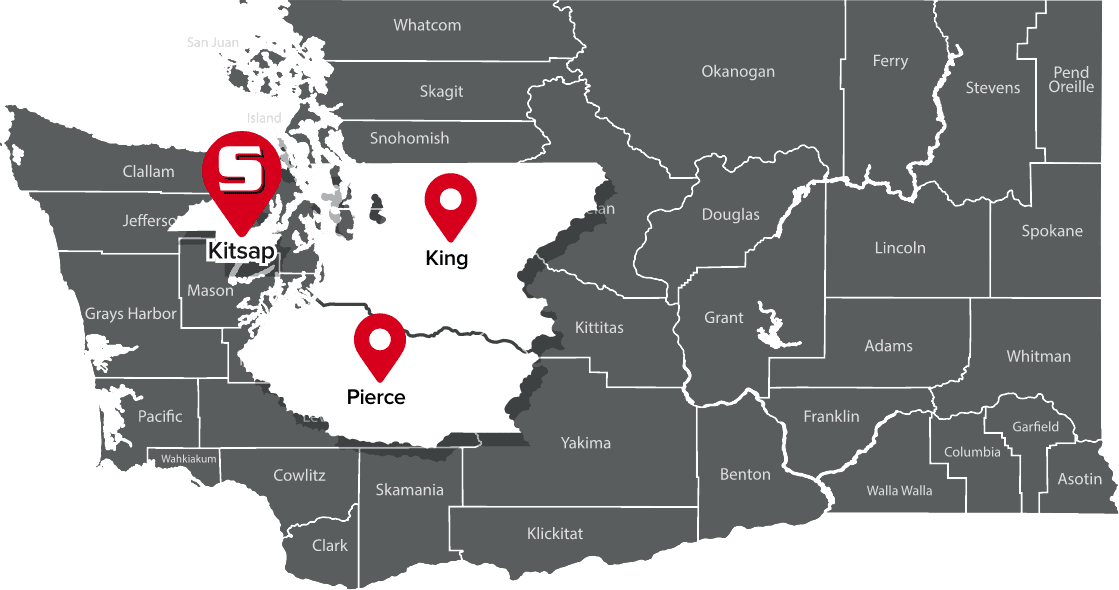 Rodent Removal in Silverdale
Rodents can cause pose a serious threat to your family's wellbeing. Not only can mice and rats carry diseases like salmonella and even the plague, but they are also known to severely damage your home—chewing electrical wires, creating holes in the walls, and tearing through insulation. They're extremely difficult to get rid of and breed at alarmingly fast rates. A single pregnant rodent can easily create an infestation in your home, one litter at a time. 
When you team up with Sound for your rodent control program, you get:
A free home inspection, during which we determine the severity of your rodent infestation, and how they're entering your home.
A customized treatment plan that meets your needs and doesn't just focus on eradicating your current rodents, but also on taking the steps necessary to keep rodents out for the long term.
Quick local service, so you don't have to go another day with rodents living in your walls.
Family- and pet-friendly treatments, that are 100% EPA- approved.
Certified Professional Rodent Exterminators
At Sound Pest Control, the minimum isn't good enough. All of our technicians undergo extensive training through the state of Washington to make sure they are up to date on the newest products and treatments. But more than just exterminators, our employees are kind, polite, and dedicated to customer service. We explain our process, step-by-step so that you have a full understanding of what we do and why we do it.
Ant Exterminators in Silverdale
When you need ant control in Silverdale, you want an exterminator to eliminate the problem immediately! We will do just that! If you give us a call before noon, we will come to your home, treat for ants, and protect your family from these tiny, but pesky, insects in no time. 
When you team up with us for ant control, we will:
Inspect your home to determine where the ants are living and feeding.
Completely exterminate your ant problem.
Protect from future infestations.
Use family-friendly products and methods.
Offer you the option to schedule recurring treatments.
We Answer Your Questions
At Sound, we encourage our customers to ask us questions. When our friendly technicians come to your home to do a free inspection, don't be afraid to ask them whatever you want to know about our ant control or other services!
Bed Bug Exterminators in Silverdale
Bed bug numbers across the country are on the rise, especially here in the Pacific Northwest. As infestation cases increase, homeowners are finding it harder and harder to keep their homes clear of these blood-sucking insects. Luckily, our best bug treatment process is tried and tested to rid your home of any bed bugs and keep them out for good!
Here's what you can expect once you've given us a call:
Your bed bug exterminator will arrive to conduct a thorough inspection of your property, checking linens, couches, mattresses, and other potential breeding grounds for any signs of a bed bug infestation.
Once the severity of your infestation is established, we will work with you to decide the best treatment plan.
We will provide open and honest communication with you so that you are never left in the dark when it comes to work being done in your own home.
Bed bugs of all life cycle stages are eliminated from your home using our humane and family-friendly treatment. 
After clearing your home of bed bugs, we take preventative measures to keep them from coming back. 
We Get It Right the First Time
Beg bugs are extremely resilient insects and can hide throughout your entire home, infecting mattresses, suitcases, other furniture, and clothes. To make sure we get them all in only one treatment, we offer a selection of treatment options, based on the severity of your infestation:
Steam and heat treatments, the most effective, single-treatment solution for bed bugs.
Chemical treatments, a more affordable option for families.
Bed bug cups that trap and contain bed bugs from spreading beyond your bed.
Mole Control in Silverdale
Are you tired of working hard on your backyard and having moles ruin it in minutes? Do you want to spend time in your yard without seeing mole holes? Then you need Sound Pest Control! We offer our mole control in Silverdale to help protect your home and help make your backyard as beautiful as it was before!
We offer a customized, eco-friendly mole extermination solution! If you have children and pets that you want to protect, our eco-friendly solution will get rid of your mole troubles without causing any secondary harm.