Looking For The Best Local Exterminator in Belfair?
What kind of problem are you having? Select all that apply.
Pest Control in Belfair, WA
At Sound Pest Control we understand the frustration and inconvenience that pests can cause in your home. With our professional and reliable pest control services, you can trust us to get rid of ants, bed bugs, rodents, and more, ensuring a safe and pest-free environment. Save on your first treatment and experience the best in pest control with Sound Pest Control in Belfair.
Our local exterminators can treat the following pests:
Roaches
Spiders
Bed bugs
Odorous house ants
Carpenter ants
Beetles
Fleas
And many more!
Same-Day Service
We understand that no one wants to share their homes with pests, which is why we offer our services when you need them. If you call us before noon, we will come to your home today, exterminate any unwanted critters, and provide peace of mind so you can rest easy.
Image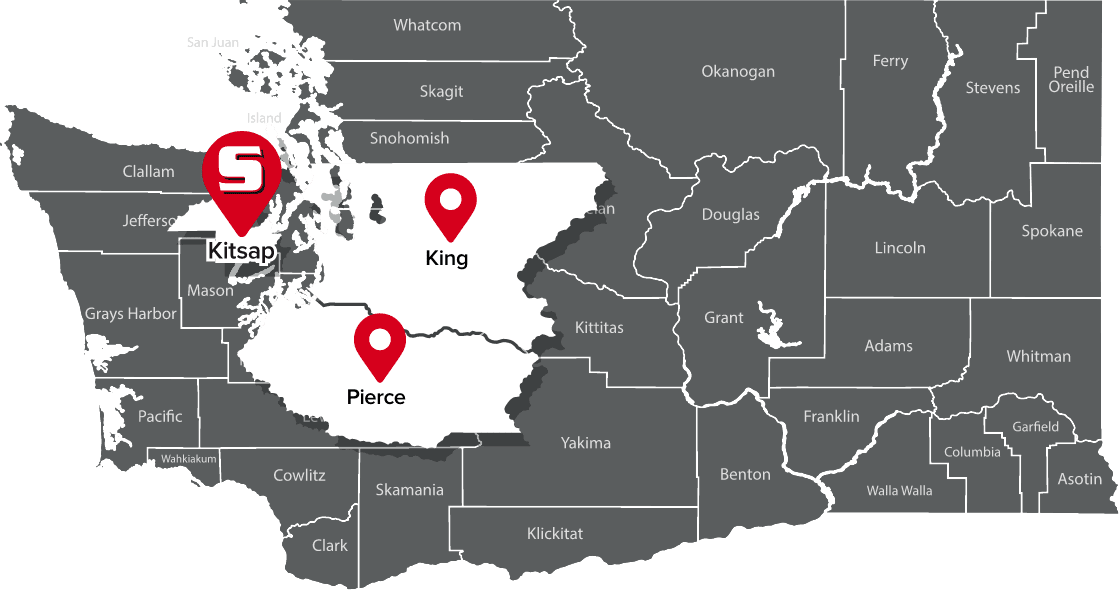 Fast, Affordable Service You Can Rely On
We believe that everyone deserves a pest-free home without breaking the bank. That's why we offer affordable pest control solutions that won't compromise on quality. With Sound Pest Control, you can get rid of pests for good while staying within your budget.
When you choose us for pest control in Belfair, you can expect the following:
Complimentary inspection to assess the extent of your infestation.
Customized treatment plan to eliminate all pests within your home.
Open communication with our experienced pest exterminators.
EPA-approved treatments that prioritize the safety of your family and pets.
Integrated Pest Management approach to ensure long-term pest prevention.
Exterior treatments to prevent pests from entering your home.
Ant Control in Belfair
Contact our dedicated ant pest control professionals today to schedule your free inspection and learn more about our comprehensive ant removal services in Belfair. Take control of your home and experience a pest-free living space for you and your loved ones. Trust Sound Pest Control to deliver exceptional results.
Our expert exterminators will:
Provide a free and detailed pest inspection for your home. 
Use treatments that are designed to target and eliminate ants from your home, providing a peaceful and worry-free environment for your family.
Prevent ants from re-entering your home by sealing off potential entry points like cracks, gaps, and broken window seals. 
Provide recurring treatments to keep your home ant-free and give you peace of mind.
Rodent Control in Belfair
Rodents can be a major nuisance in your home, taking advantage of even the tiniest gaps or holes in the walls to wiggle their way inside. Once they're in, they can quickly multiply, turning a small problem into a full-blown infestation. Our team of experienced rodent exterminators in Belfair is dedicated to providing a comprehensive solution to your rodent problems.
Choose us as your Belfair rodent control solution and receive:
A free rodent inspection to identify entry points and assess the severity of the infestation. 
EPA-approved traps and baits to prevent rodents from entering your home.
Interior trapping methods to safely and humanely remove rodents from your home. 
Rodent exclusion to ensure that rodents have no way of reentering your home.
Bed Bug Control in Belfair
Don't let bed bugs disrupt your sleep and put your family's health at risk—get rid of them with Sound Pest Control's comprehensive bed bug control service in Belfair. Our highly skilled bed bug exterminators will provide you with a thorough inspection of your home, including couches and mattresses, to detect any signs of infestation.
Our bed bug treatment includes:
Free comprehensive inspection of your home for bed bugs, checking mattresses, couches, and other hiding spots for any signs of activity.
A personalized treatment plan tailored to your needs.
Ongoing communication to keep you informed every step of the way.
Family-friendly treatments that are effective in eliminating bed bugs without posing any harm.
Complete eradication of bed bugs in every life stage, including eggs.
Preventative measures to ensure that bed bugs don't return to your home.
Mole Control in Belfair
At Sound Pest Control, we value convenience. That's why our mole control service in Belfair is available as a one-time service without any contracts. We believe in earning your trust through our exceptional results, giving you the freedom to choose when you need our assistance. 
In addition, our mole control service includes:
Safe and eco-friendly methods for mole control that don't harm wildlife or plants.
Get a free property and lawn inspection to evaluate the severity of the mole problem.
Flexible scheduling options to accommodate your busy lifestyle.
Customer satisfaction with exceptional results and a pest-free lawn that meets your expectations.