What kind of problem are you having? Select all that apply.
No Contract Options
Pest Control in Federal Way, WA
Accidentally attracting pests is easy—all it takes is dirty dishes in the sink, overripe fruit on the counter, or forgotten crumbs on the floor. Unfortunately, it's not as easy to remove critters once they're inside, especially when you rely on DIY options. Instead of struggling on your own, trust our pest control treatment program. With over 30 years of combined experience, 60-day warranty, and no-contract options, there's no better choice than Sound Pest Control!
Our exterminators in Federal Way treat a variety of pests, such as:
Spiders
Cockroaches
Beetles
Ants
Rodents
Earwigs
Fleas
Silverfish
And more!
No-Contract Options Available
While regular treatments are the best way to keep pests out of your home, we understand that's not the best option for everyone. That's why we offer no-contract service options, so you can choose the exact type of service you want. Whether you sign up for one of our programs or choose a one-time treatment, you'll always receive top-notch customer service.
Image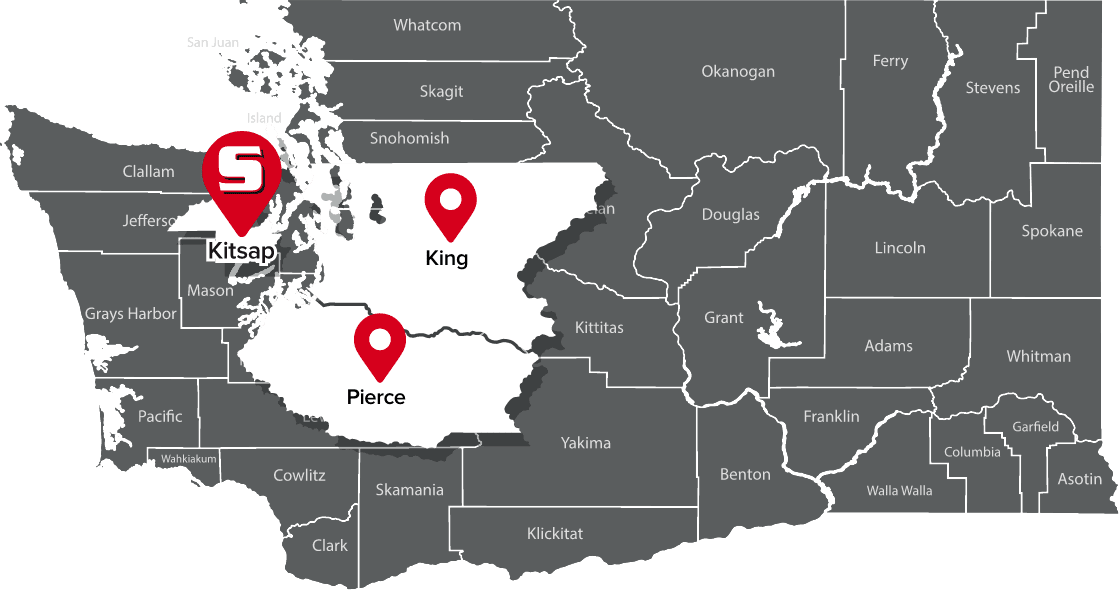 Family-Friendly Pest Control
Pests don't belong in your home, end of story! They put you at risk for bodily harm and disease and can cause expensive damage to your home. Whether you're looking to keep critters out or need help eliminating a current infestation, our pest control in the Bremerton area is the solution for you. We use family-friendly, environmentally safe products to give you a truly hassle-free experience.
When you partner with us for pest control in Federal Way, we will:
Inspect your home to determine how critters are getting inside and where they're hiding.
Give you a free, no-obligation quote so you know you're getting the best deal.
Use reduced-risk products to eliminate all existing pests.
Schedule recurring treatments to prevent future infestations, giving you long-term relief.
Back our services with a 60-day guarantee.
Ant Control in Federal Way
Seeing a few ants in the kitchen or crawling across your windowsill may not be concerning, but if left unchecked, it's just a matter of time before you're housing the entire colony. Once an ant infestation is established, it's difficult to eliminate because your home is the perfect place for them—it's full of water sources, food crumbs, and plenty of crevices to hide. To eliminate them once and for all, trust our team of experienced ant exterminators. Not only do we treat existing ants, but we also keep them from returning.
When you choose our ant control in Federal Way, we will:
Give you a free, no-obligation quote so you can feel confident you're making the right choice.
Thoroughly inspect your home to determine the extent of the infestation and how the insects are getting inside.
Use safe, proven methods to completely eliminate all unwanted ants.
Perform exclusion repairs to block off entry points and prevent future infestations.
Offer discounts and special offers to make our services affordable to everyone.
Rodent Control in Federal Way
Getting rid of rats and mice isn't always as easy as setting a mouse trap here and there. Mice have the ability to squeeze through openings as small as dimes and reproduce as many as 10 times a year. Once they're in your home, the worry of contaminated food and house wear and tear will set in. DIY rodent treatment rarely provides the lasting relief most homeowners are looking for, so that's where Sound Pest Control comes in. With our comprehensive rodent control in Federal Way, you won't have to worry about ineffective treatments and recurring infestations. 
Our expert rat exterminators will put an end to infestations once and for all with the following services:
A thorough inspection to identify entry points, nests, and food sources.
Integrated rodent control that includes both eliminative and preventative treatments.
Family-friendly rodent removal procedures and products for your total safety and peace of mind.
Preventive treatments such as sealing up areas where mice may be accessing your home.
Bed Bug Treatment in Federal Way
Sleep soundly and get rid of bed bugs with our exceptional bed bug control service in Federal Way.
Our expert bed bug exterminators will perform a thorough inspection of your home, including couches and mattresses, to detect any signs of these pesky insects' activity.
Based on the findings of our inspection, we will create a custom treatment plan tailored to your specific needs.
Throughout the process, we will keep you updated on all treatments being performed in your home, ensuring ongoing communication.
Rest easy knowing that we use family-friendly treatments to ensure the safety of you and your loved ones.
Our comprehensive approach eliminates bed bugs in every life stage, including eggs, so you can say goodbye to these nuisances for good.
We also implement preventative measures to ensure that bed bugs do not return to your home in the future.
Experience peace of mind and a good night's sleep with our top-notch bed bug control service in Federal Way.
Mole Control in Federal Way
Are moles wreaking havoc on your lawn? Look no further than our expert mole control service to get rid of these pesky pests once and for all. With our attention to detail and environmentally-friendly treatment methods, you can trust us to effectively eliminate burrowing moles and restore your lawn to its full glory.
When you choose our mole control service in Federal Way, you'll receive the following benefits:
A free comprehensive property and lawn inspection
Expert identification of lawn pests
Environmentally-friendly treatments
Complete elimination of burrowing moles
A one-time service—no contract needed
Don't let moles ruin the beauty of your lawn any longer. Contact us at Sound Pest Control today and take advantage of our top-notch mole control service in Federal Way. Say goodbye to moles and hello to a pristine lawn.