What kind of problem are you having? Select all that apply.
No Contract Options
Pest Control in Tacoma, WA
With over 30 years of experience treating the most common pests in the northwest, Sound Pest Control is your go-to company for fast, reliable, and safe pest control. Whether you're looking to get rid of a current pest that day, or are looking for preventative actions, you can count on our team of local pest control experts to get the job done!
Our exterminators in Tacoma will protect your home from:
Carpenter ants
Rodents
Odorous house ants
Spiders
Fleas
Cockroaches
Beetles
And more!
Image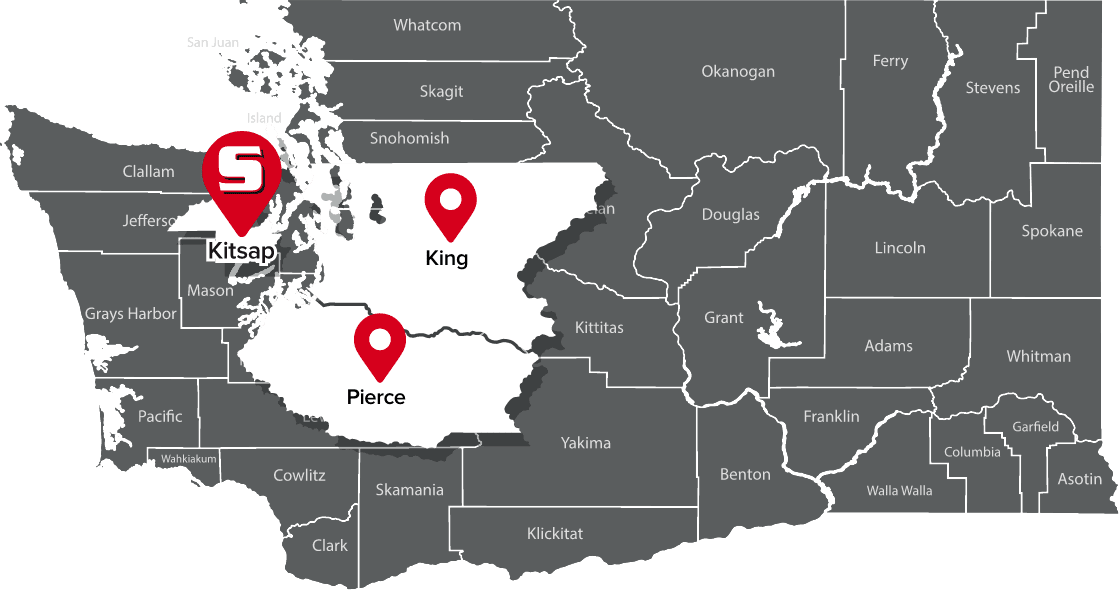 Exterminators You Can Depend On
Our exterminators from Tacoma are committed to providing outstanding customer service and will always go above and beyond to exceed your expectations. We will walk you through our entire pest control process and will be happy to answer any questions you may have—as well as share tricks and tips on how to help prevent future infestations! Additionally, our guaranteed services are EPA-approved and family-friendly, allowing you to go about your day without worrying about harmful pesticides around your family and pets. 
When you partner with us for pest control in Tacoma, you can expect:
A free inspection of your home, which will assess the degree of your infestation.
A custom treatment plan to eliminate every critter hiding within your home.
Open communication from your experienced pest exterminator.
EPA-approved treatments that are safe for your family and pets.
An Integrated Pest Management approach to keep unwanted pests out for good.
Exterior treatments to stop pests before they ever enter your home.
Ant Control in Tacoma
The two most common ants in the Puget Sound area are the Carpenter Ant and the Odorous House Ant, also known as the Sugar Ant, but there are many more types of ants in Washington state that can be plaguing your home! Carpenter ants, in particular, can do significant damage to the structural integrity of your home by chewing their way through the wood. Luckily, Sound Pest Control offers professional treatments that will effectively eliminate ants from your home and keep them out long-term!
When you partner with us for ant control in Tacoma, we will:
Perform a complimentary 360-degree home inspection to identify the ant that has infested your home, as well as the extent of your infestation.
Use family-friendly ant treatments to exterminate existing ants.
Provide a protective ant barrier to protect your home from future infestations.
Rodent Control in Tacoma
No vermin makes homeowners' skin crawl quite like mice and rats. Rodents enter your home through tiny openings in the exterior, making a home in your foundation, walls, and attics. That's why our rat exterminators are here to get rid of infestations quickly and effectively!
Our team of experienced exterminators will:
Inspect your home for signs of a rat or mouse infestation.
Place bait stations and mechanical traps in strategic locations
Seal off all points of entry
If you contact us before noon to schedule a service, our team of rodent exterminators will be there before the end of the business day to provide family-friendly rodent control solutions!
Bed Bug Treatment in Tacoma
Our bed bug heat treatments are fast, effective, and family-friendly for your peace of mind. When you sign up for our professional pest control service, you can trust that our bed bug exterminators know the best methods to eliminate bed bugs from your home. We also are knowledgeable on the proper steps needed to prevent a future bed bug infestation. 
Our bed bug treatment in Tacoma consists of:
Inspecting your mattresses and other furniture that is suspected to have bed bugs. 
Creating a custom treatment plan that will eradicate bed bugs, nymphs, larvae, and eggs!  
Getting rid of bed bugs with eco-friendly heat treatments that guarantee total elimination.
Mole Control in Tacoma
You take great pride in your yard, so the last thing you want is to step outside and find that moles have formed mounds of dirt throughout your lawn, uprooted your plants, and destroyed the roots of your lawn with underground tunnels. Moles are not only damaging to lawns and gardens, they're also extremely difficult to get rid of. To better assist you, we offer mole removal that will provide you with the mole-free lawn you deserve!
When you partner with us for mole control in Tacoma, you will receive:
A free lawn evaluation to determine the extent of your mole infestation.
Highly effective, eco-friendly treatments, guaranteed to deliver the results you want.
The total elimination of moles throughout your property.
No-contract options for mole control that allow you freedom and flexibility
Help Build a Stronger Washington
Our team isn't just passionate about removing unwanted critters from homes in Washington. We're also passionate about giving back to the community. Marty Huff, owner of Sound Pest Control is the President of the Central Kitsap Food Bank. As a company committed to helping those in need, our awesome team volunteers at the food bank, and we make frequent monetary donations. Every time you partner with Sound Pest Control in Bremerton, you will know that you're helping a family in need in a nearby community!