What kind of problem are you having? Select all that apply.
No Contract Options
Pest Control Services in Bremerton, WA
When a client teams up with us for residential pest control, we want them to know that they're getting the best. That means we make sure we have the best exterminators, provide comprehensive training, and utilize the most effective products. Not only do we employ the top methods for the industry, but we also promise to only use EPA-approved, family-friends products in and around your home.
Your children and pets won't have to worry about playing near the areas we treat while we protect your home from the most common pests in Washington State, including:
Rodents
Carpenter Ants
Odorous House Ants
Fleas
Roaches
Sugar Ants
Beetles
Spiders
And more!
Effective and Efficient Treatments
When you see unwanted ants crawling through your kitchen, or hear your children scream because a roach scuttled under their bed, you want those pests gone, and fast! With Sound, you won't have to wait for a solution. Our experienced exterminators will be on-site as soon as possible, performing a thorough inspection of your home and property and eliminating the problem immediately. Our customers' protection is our top priority.
To hear some first-hand accounts of our services, check out reviews of our pest control treatments in Bremerton.
Image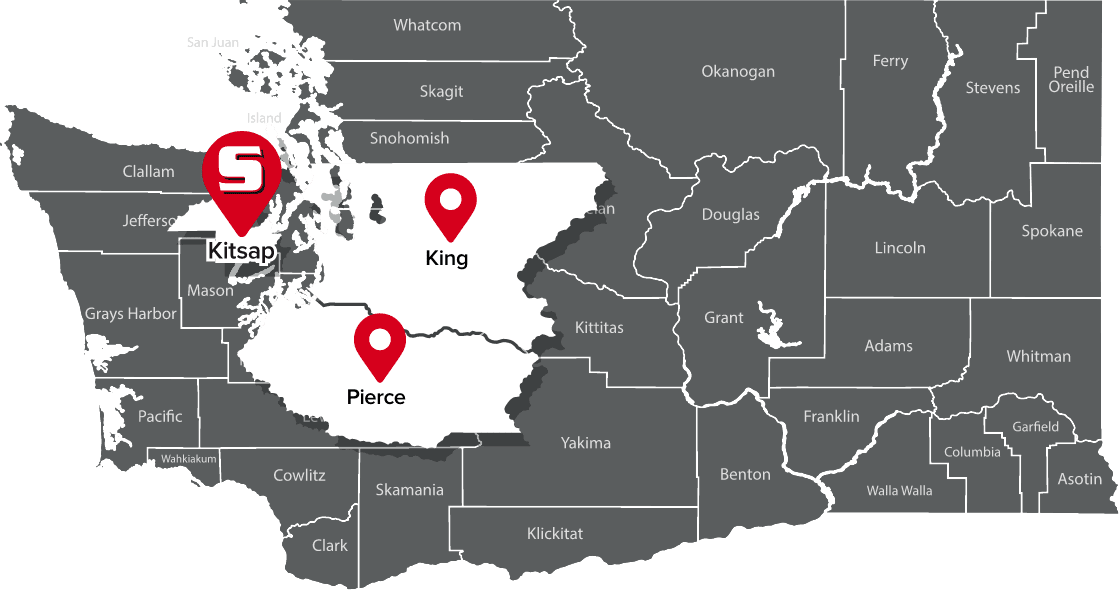 Long-Lasting
Ant Control in Bremerton, WA
While some ant infestations are more serious than others, any ant inside your home poses a threat to you, your home, and your family. Though you may only see one ant now, once they have found a food source, like your pantry, others are sure to follow.
Our ant exterminator program includes:
Inspecting your home to find where the ants are and how they're getting in.
Eliminating the ants inside your home with family- and pet-friendly treatments.
Talking with you to ensure you are informed about the most common types of ants in Washington.
Protecting the perimeter of your home to keep ants from returning.
Being your guide and resource before, during, and after the treatments.
Get Quick, Lasting Relief
We understand how unnerving it can be to stay in your house when you know there are unwanted insects around. That is why at Sound we are committed to offering convenient local service. If you call us before noon, we will be at your home eliminating ants before the day is done! 
Experienced
Rodent Control in Bremerton, WA
When rats and mice invade your home looking for food and shelter, they can bring major concerns with them. From chewed wires and making holes in the wall and insulation to transmitting the Andes virus and Salmonella, there's almost no end to the problems rodents can cause for you and your loved ones.
With over 30 years of combined experience, our rodent exterminators in Bremerton know how to provide you with the ultimate protection from rodents:
We will conduct a thorough, free inspection of your home to determine the level of your infestation and to identify rodent entry points.
We will then work with you to determine a custom treatment plan that fits your needs and budget.
Not only will we eliminate all rodents from your home, but we will also take the proper steps to make sure they don't come back.
With Sound, you'll have protection from rodents for the long term!
Trustworthy
Bed Bug Treatment in Bremerton, WA
No one wants to share their home with bed bugs, which is why we've worked hard to develop a treatment process that gets the job done right. Our bed bug control is tailored to your specific needs, giving you the most effective care possible. We'll give you back your peace of mind by combining reactive and preventative treatments, so you can feel confident that you're in capable hands.
When you trust our bed bug exterminators, we will:
Carefully inspect your home, searching your bed, couch, and every nook and cranny for signs of bed bugs.
Design a custom treatment plan based on your unique situation and your home's needs.
Use effective, proven methods to exterminate bed bugs in a timely manner.
Remove bed bugs of every life stage, from egg to adult.
Take preventative measures to ensure bed bugs don't make a comeback.
Address all of your questions and concerns to keep you informed throughout the process.
Effective
Crawl Space Repair in Bremerton, WA
Most homeowners don't look at their crawl space frequently, but just because it's out of sight doesn't mean it should be out of mind! Rodents are destructive inside your home and they're just as bad below it. These pests can tear up your crawl space, cause offensive odors, and put you at risk for diseases like leptospirosis. Instead of buying specialized tools and crawling under your home on your own, trust the experts at Sound Pest Control. Our crawl space repair in Bremerton takes care of all the hard work for you!
When you partner with us, our crawl space contractors will:
Conduct a thorough home inspection to search for signs of rodents.
Identify any existing damage and potential entry points.
Share our findings and give you an estimate for repair costs.
Complete the necessary repairs to make your crawl space safe and clean.
Stop future infestations from happening.
Eco-Friendly
Mole Control in Bremerton, WA
You work hard all year to keep your lawn healthy, why let a mole infestation undo it all? Moles' constant tunneling under your lawn and flower beds can damage plants from below, while also leaving visible, raised ridges and mounds across your lawn. DIY mole control is time-consuming and challenging, so leave the task to the local experts at Sound. We offer the best mole control with contract-free service to get rid of moles quickly with no contracts needed. 
Signs of mole activity includes:
Raised ridges and mounds in your yard.
Areas of discolored or dead grass. 
Areas of loose soil that collapses easily.
An increase in lawn weeds, particularly around the ridges and mounds caused by mole activity. 
Why Sound Pest Control?
Our exterminators go through rigorous training supplied by the state of Washington to stay up to date on the most current products and treatment methods. What's more, every one of our exterminators is friendly and excited to help you find the perfect plan for you. We want your experience with us to be the best possible, so we offer a variety of benefits for our customers. With our services, we also offer:
Local service. When you've got a problem, you need a solution fast. Give us a call before noon, and we'll be at your door quickly.
Family-friendly treatments. At Sound, we have families we need to protect, too. That's why all of our products are child and pet friendly!
Eco-friendly products. You deserve the best treatment without the unnecessary chemicals. Our exterminators prioritize you and the environment by using EPA-approved products.
Customer Service At Its Finest!
From the first phone call to our office until the last critters have been exterminated, our team at Sound will treat you like family. Providing excellent customer service isn't just a way of making our customers feel special, it's something we take great pride in. One small way that we are dedicated to our customer's satisfaction is that we don't require long-term contracts just to take care of your infestation. Just give us a call, we'll exterminate the pests, and you can have your home back. We make it that simple!
Areas We Service Around Bremerton
We are proud to provide our customized pest control programs to many communities around Bremerton, including:
Belfair
Bellevue
Edmonds
Manchester
Port Hadlock
Port Townsend