What kind of problem are you having? Select all that apply.
No Contract Options
Pest Control in Gig Harbor, WA
Whether you're currently dealing with an infestation or are wanting to prevent one in the future, Sound Pest Control is your go-to for fast, quality service. With over 30 years of combined experience treating the most common pests in the northwest, we've had time to perfect our methods. Our Gig Harbor exterminators are expertly trained and use the best treatment methods and safety techniques in the business to protect you from pests, such as:
Cockroaches
Beetles
Carpenter ants
Odorous house ants 
Spiders
Fleas
Rodents
And more!
Schedule Your Inspection Today!
Safe Treatments For Your Home and Family
We want your home to be a safe and comfortable place for your family, but not for critters seeking shelter from the rain, cold, and heat of the Pacific Northwest. Our highly-trained team gets rid of these nuisances using only EPA-approved products that are people, pet, and environmentally friendly. 
Image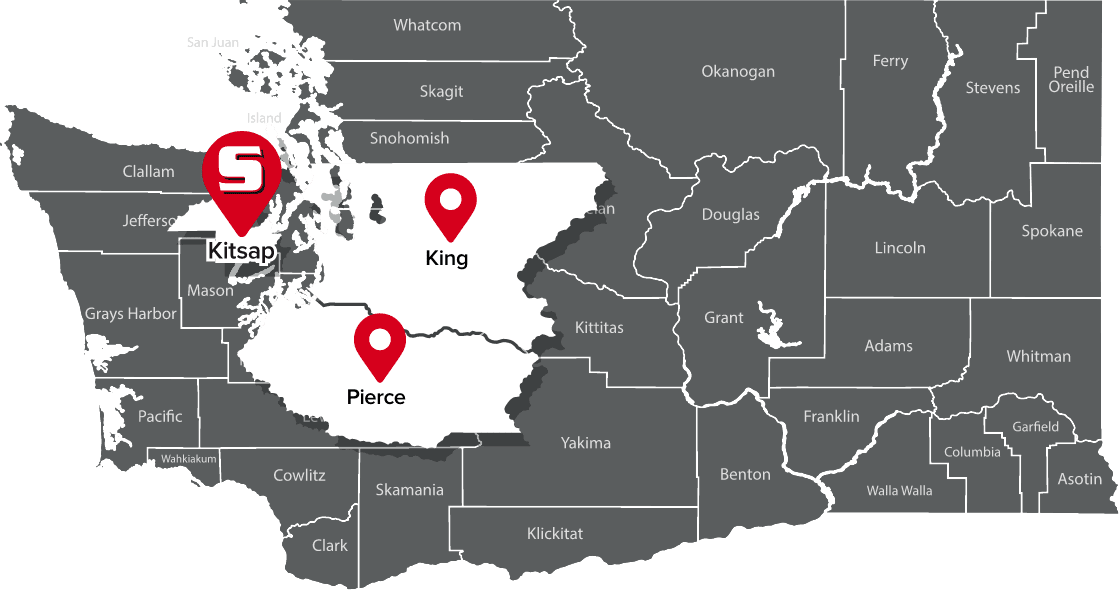 Effective Services with Proven Results
When your home is under attack from vermin, the wait for relief can be agonizing. That's why we offer local service, with no strings attached. Call by noon and we will come to your house, perform a thorough inspection, and address your pest problem! Our phone lines are open 24 hours a day, 7 days a week, so you always reach a friendly voice who will help resolve your infestation.
When you partner with us for pest removal in Gig Harbor, we will:
Conduct a free inspection of your property.
Guarantee to exterminate every critter inside your home.
Treat your home's exterior to stop the vermin from getting inside.
Use family-friendly products to treat your property.
No Contract Gig Harbor Pest Control Options
We let our work speak for itself. That's why we don't require our customers to commit to monthly service contracts. Our services are customized to suit both your needs and your budget. Whether you are seeking a one-time solution for an immediate problem or long-term, preventative protection, our experienced team of exterminators from Bremerton will work with you to keep your home free of unwelcome visitors.
Expert
Rodent Control in Gig Harbor, WA
Rats and mice are common home invaders that can spread diseases and cause damage to your home. If you're concerned about an infestation, we can help! We offer rodent control treatments that will quickly eliminate your current infestation and keep your home rodent-free all year long. 
Our rodent control program includes:
A free home inspection by a trained exterminator to assess the degree of your mouse or rat infestation.
Customizable treatment plans to match your lifestyle and budget.
Quick rodent removal through traps and family-friendly baits. 
Effective exclusion methods, guaranteed to seal all entry points.
Professional
Ant Control in Gig Harbor, WA
When you spot one ant, many more are sure to follow. At first, you may turn to DIY treatments, but these methods are ineffective long-term. We provide professional ant control to help prevent future infestations. Our targeted treatments will get rid of ants for good!
Our ant control treatments include: 
A thorough inspection of your home to determine the extent of your ant problem.
A custom treatment plan designed to best suit you and your home's needs.
Eco-friendly treatments that will effectively get rid of ants in your home.
Implementation of prevention techniques to ensure long-term protection.
Risk-Free Ant Elimination
With over 30 years of industry experience, you can trust that our exterminators have the dedication, training, and knowledge necessary to get the job done right! We value bringing efficient services to our neighbors whenever they are needed. When you invest in our ant control, you invest in family-friendly products and methods. If you are ready to take back control of your home today, call us before noon and we'll set up a time to exterminate the ants before the end of the day!
Swift
Bed Bug Treatment in Gig Harbor, WA
Once bed bugs have entered your home, they spread fast and infest your favorite corners of your home. Fortunately, we offer treatment that quickly targets all bed bugs in your home for total elimination. An infestation is stressful enough, so we strive to make the removal process as hassle-free as possible.
When you partner with us for bed bug treatment, you can expect:
A thorough inspection, scouring every nook and cranny of your home to locate all bed bugs in your home.
A custom treatment plan that's tailored to your needs and budget.
The use of family-friendly products and practices for your peace of mind.
Complete eradication of bed bugs in every stage of life—from egg to adult.
Preventative measures to keep your home protected from future infestations.
We Get the Job Done Right
If bed bugs aren't properly eliminated the first time around, the remaining pests will multiply until you have another infestation on your hands. This is why it's important to get the job done right the first time, something we pride ourselves on. Every aspect of our treatment is handled with the utmost care to ensure it's done as effectively and efficiently as possible. If you're ready to say goodbye to bed bugs, our team of professional bed bug exterminators is exactly what you need!
Environmentally-Friendly
Mole Control in Gig Harbor, WA
Moles can burrow deep underground, creating a system of tunnels that destroys your landscaping and kills your grass. Fortunately, we can protect your yard from these nuisance invaders. Our service is both effective and eco-friendly. Unlike our competitors, we don't rely on toxic rodenticides that can cause secondary poisoning. Instead, we take a green approach that only targets unwanted moles and nothing else. 
As part of your mole removal package, we will:
Send a professional lawn technician to your home.
Perform a free lawn evaluation to confirm the presence of moles and determine the severity of your problem.
Use safe, advanced, eco-friendly treatment techniques to eliminate the critters without impacting the surrounding environment.