What kind of problem are you having? Select all that apply.
No Contract Options
Pest Control in Bainbridge Island, WA
At Sound Pest Control, we work hard to deliver top-quality service. Our expertly trained exterminators in Bainbridge Island create custom treatment plans that are designed to individually treat the infestations affecting your home, while also providing effective preventative methods for long-term protection.
Our exterminators provide services for a variety of pests, including:
Cockroaches
Fleas
Spiders
Beetles
Bed bugs
Carpenter ants
Odorous house ants
And more!
Swift, Effective Service
We understand that no one wants to share their homes with pests, which is why we offer our services when you need them. We will dispatch one of our experienced exterminators as soon as possible to help reclaim your home from unwanted critters and provide peace of mind so you can rest easy.
Image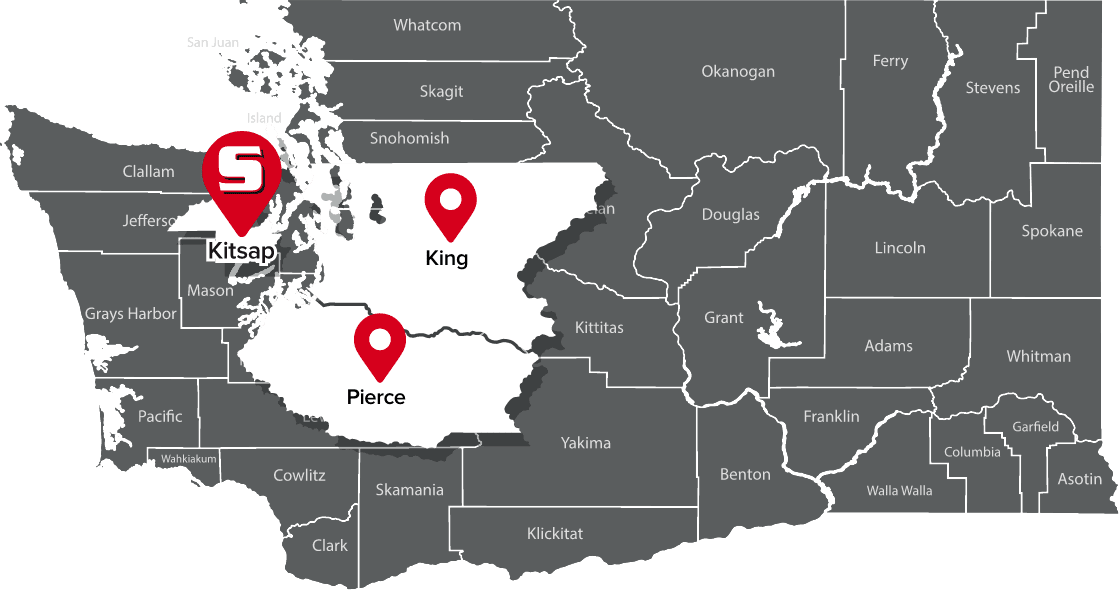 Pest Exterminators with 30+ Years Of Experience
With our pest control office in Bremerton, we take pride in providing the best local pest control services. Not only do we hire experienced exterminators, but we also put them through annual, rigorous training that keeps them up-to-date on industry trends, methods, and safety tips.
This allows us to offer a pest control service program that includes:
A free inspection of your property.
Our guarantee that we will exterminate every critter inside your home.
Exclusion methods and treatments to prevent pests from getting inside.
Our promise to only use EPA-approved products to treat your home.
As part of our commitment to our customers, we encourage you to ask any questions you may have about our treatment methods, how critters are getting into your home, and what you should do to make it so pests aren't attracted to your house.
Rodent Control in Bainbridge Island
Rodents can cause a variety of issues, which is why our expert exterminators in Bainbridge Island have the training and the knowledge to eliminate current rodent infestations and prevent future ones!
Our rodent control includes:
A free, thorough inspection of your home to evaluate the severity of your infestation and identify potential points of entry.
A custom treatment plan that fits your budget and best eliminates your current infestation. 
Eco-friendly rodent treatments that are safe for your family and home.
Total rat and mouse elimination with bait stations and traps.
Effective exclusion, which entails sealing off all entryways.
The Dangers of Rodents in Your Home
The danger of having rats and mice in your home is two-fold:
Rodents like to chew through wires, insulation, wood, and furniture. Their unrelenting gnawing on almost anything can cause major structural damage leading to costly repairs and even fires.
Both mice and rats are known to carry harmful and sometimes deadly diseases that can be transmitted to your family and pets—such as bubonic plague, hantavirus, rat-bite fever, leptospirosis, and many others. In many cases, these diseases are transmitted through bites, but also urine and droppings.
So you see a mouse or rat, it's important to act fast!
Ant Control in Bainbridge Island
If you notice a streaming trail of ants inside your home, it's important to quickly address your problem. While you may notice just a few ants, there could be thousands more hiding inside your walls. Luckily, our ant exterminators are trained with the best techniques to ensure quick relief and long-term prevention!
When you partner with us for treatments, we will:
Conduct a free inspection of your home.
Eliminate the existing ants inside your home. 
Use family- and pet-friendly ant treatments to keep your loved ones safe while simultaneously eliminating ants. 
Protect the perimeter of your home long-term by effectively treating the exterior.
Eliminate Ants the First Time
There are 4 common ants in Washington state, all of which are notorious for invading homes in search of sources of food and shelter, raiding your pantry, refrigerator, and even munching on wood. That's why our team of local professionals will not only get rid of the current infestations that have overtaken your home but also will keep any more ants from moving in. 
Bed Bug Treatment in Bainbridge Island
Sleep is important to your mental and physical well-being, productivity, and happiness. Unfortunately, nothing can ruin a great night's sleep like bed bugs. Instead of losing the rest and comfort that you deserve, rely on our treatment to eradicate your infestation. 
When you contact us for bed bug treatment in Bainbridge Island, you will receive:
A free, comprehensive inspection of your home, performed by one of our trained bed bug exterminators.
A custom treatment plan that is tailored to your home's specific needs. 
A variety of treatment options from traps to steam, heat, or chemical treatments. 
Family-friendly treatments that eliminate bed bugs in all stages of life.
Preventative bed bug treatments to keep the insects from returning to your home.
Mole Control in Bainbridge Island
Moles are small creatures that invade lawns in search of grubs, earthworms, insects, and other food sources. In the process of searching for food to eat, moles can do extensive damage to the overall health and appearance of your turf. Fortunately, we offer professional mole control in Bainbridge Island to quickly and safely remove all of them from your property, so you can rest easy knowing your lawn is safe and secure against these destructive rodents. 
When you partner with us, we will:
Send a professional mole exterminator to your home.
Inspect your lawn for free to assess the severity of your infestation.
Develop a custom treatment plan to remove moles for good.
Use eco-friendly solutions to completely get rid of moles, never relying on harmful rodenticides or chemical repellents for mole removal.
Call Us Today For A Free Estimate!
Eco-Friendly Yard Mole Removal You Can Trust
Here at Sound Pest Control, our top priority is the safety of your family and our planet. Unlike companies that use damaging rodenticides or chemical repellents, our treatment is entirely eco-friendly. We rely on carbon monoxide to exterminate moles quickly and efficiently. We are proud to offer solutions that will provide yard mole removal while preserving your peace of mind.